New Report Details Helms Amendment's Reach
Written by Stacie Murphy, Director of Congressional Relations | Published: January 21, 2022
A new report by the Kaiser Family Foundation (KFF) reveals just how broad the impact of the Helms Amendment really is.
Since it became law as part of the Foreign Assistance Act nearly 50 years ago, the Helms Amendment has prohibited American foreign aid funds from being used for "abortion as a method of family planning." However, an over-broad interpretation of the measure has meant that U.S. aid dollars have not been used to fund abortion under any circumstances, even when a pregnancy is life-threatening or results from rape or incest—a notable departure from most domestic abortion restrictions in the United States, including the Hyde Amendment, the domestic counterpart to Helms.
Looking specifically at aid provided for family planning and reproductive health, maternal and child health, and HIV/AIDS funding (via PEPFAR), KFF found that of the 56 countries receiving family planning aid from the United States Agency for International Development (USAID), 14 allow for abortion in at least one or more exceptional circumstances—for example, when a pregnancy is life-threatening. An additional 34 countries have more permissive laws, meaning there are even more cases in which the Helms Amendment prevents people from accessing the care they need.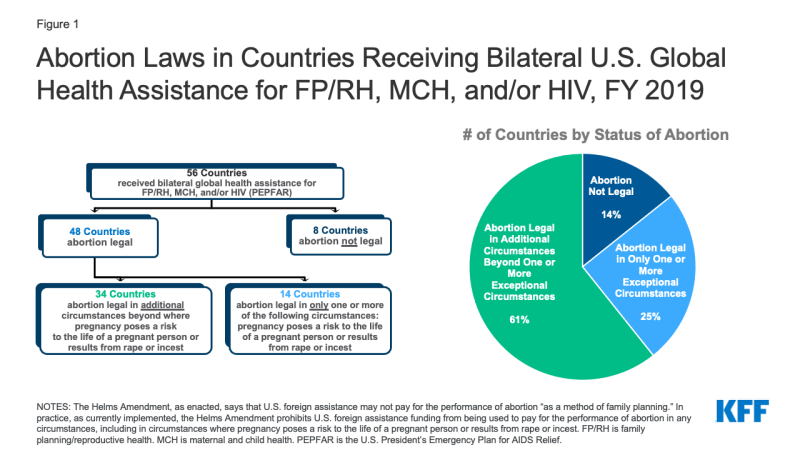 The United States is the largest donor to the programs listed above in essentially all of these countries, meaning that our restrictions have an outsized effect on what services are actually available. The Helms Amendment prevents vulnerable people around the world from accessing care that is legal in their own countries. This is a grotesque use of American power and an imperialist infringement on patients' right of self-determination. It's long past time for the policy to end.
The Abortion Is Health Care Everywhere Act (H.R. 1670), which was reintroduced by Rep. Jan Schakowsky in March 2021, recognizes this reality. The bill would repeal the Helms Amendment and allow the use of U.S. foreign aid funds for the full range of reproductive health care, including abortion. Though the bill currently has 173 co-sponsors in the House, there is not yet a companion bill in the Senate, and there are no current prospects for passage. The Biden administration has expressed support for the repeal of the domestically focused Hyde Amendment (though, again, Hyde allows funding for abortion under certain circumstances), but it has not made any similar statement on Helms. Indeed, the administration's most recent budget proposal left Helms intact.
There's a long way to go to end the Helms Amendment, but we're committed to being part of the struggle until everyone around the world can access the care they need.